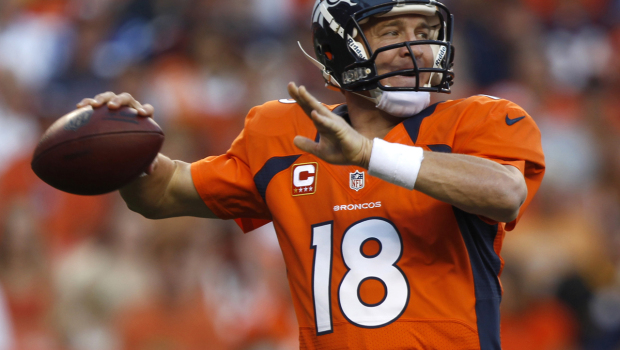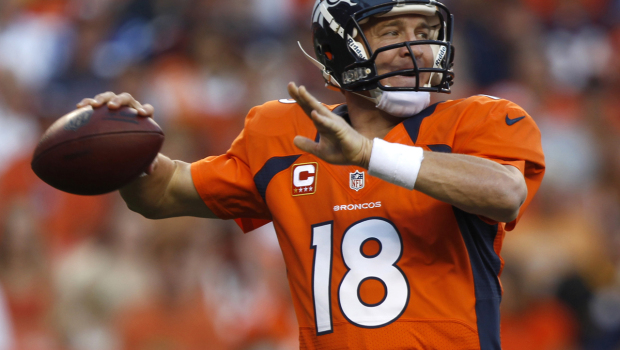 Only Two Unbeaten Teams Left
Six weeks into the regular season, there are only two unbeaten teams left in the NFL.
The Denver Broncos, and the Kansas City Chiefs.
Two teams who earn their wins in very different ways. Denver with offense. Kansas City with defense.
The Broncos picked up another win, knocking off the lowly Jacksonville Jaguars. Gus Bradley's unit put up a tough fight through the first half, but were unable to sustain their effort. Denver has earned their wins with the overwhelming offense led by Peyton Manning and his deep receiving corp.
The Chiefs' defense has been absolutely off the charts. Kansas City has allowed no more than 17 points in a game this year, they've collected 31 sacks (average of over five per game) including 10 last week against Oakland, and they've scored a defensive touchdown in five of their six games. They're the reason that this team is 6-0. Defensive coordinator Bob Sutton has done a tremendous job at making Andy Reid look like an early coach of the year candidate.
Of the two teams, I have to believe that Denver stands the better chance of remaining unbeaten. The lack of offensive firepower is going to come back to haunt the Chiefs at some point. And while I expect their defense to remain solid, no unit can keep up a pace of scoring a defensive touchdown and picking up five sacks every week.
Three Teams Still Without A Win
The New York Giants, Tampa Bay Buccaneers and Jacksonville Jaguars are a combined 0-17.
Is there any hope for any of these squads?
I think Tampa Bay is the best team of this sorry bunch. They've got a pretty solid defense, they've still got very talented skill position players (Vincent Jackson, Doug Martin) and they've been very competitive in most of their games. If Mike Glennon can make some strides and avoid mistakes, they're going to continue to have opportunities for wins and sooner or later they're going to have a game break their way for a change.
Between the Giants and the Jaguars, the Giants clearly have the better talent, but I think they're getting closer and closer to completely checking out and giving up on the season. Eli Manning has been so unbelievably bad, and he's on pace for close to 40 interceptions. The running backs and offensive line have been decimated by injuries. The defense has gotten old and ineffective. Its shaping up to be a rough year for Big Blue.
The Jaguars have at least shown some signs of fight and life to this point. They did all they could to give Peyton Manning and the Broncos a game, and surprised a lot of people by going into the half down by only two points. The recent return of Justin Blackmon has given the offense a nice shot in the arm, but its not enough to make a serious impact.
Around The League Quick Thoughts
Unbelievable finish by the New England Patriots over the Saints. For Tom Brady to complete that last-minute drive with the terrible receivers he's been saddled with this year just speaks to how great of a quarterback and a leader he is. Brady's worked very hard with his young wideouts, trying to get them up to speed with what he needs them to do and it finally appears to be paying off. He's been without Rob Gronkowski all season, and this off-season's major addition, Danny Amendola, can't seem to make it through a game without injuring himself.
Give Doug Marrone and the Buffalo coaching staff a lot of credit. After losing first-round pick E.J. Manuel to an injury, they were able to get practice squad quarterback Thad Lewis up to speed in his first career start and keep the team competitive against the Cincinnati Bengals. Lewis threw two touchdowns and ran for one more, and the Bills forced the Bengals into a 24-24 tie that went into overtime.
Things have really gotten ugly for the Houston Texans. Another embarrassing loss, this time at the hands of the St. Louis Rams. The quarterback situation continues be an issue, as the calls for Matt Schaub's job increase every week.
Speaking of quarterback controversies, it probably won't be long before Josh Freeman gets his opportunity to start for the Vikings. Matt Cassel was pretty bad this week against Carolina, and I don't think the team is interested in revisiting Christian Ponder anytime soon.