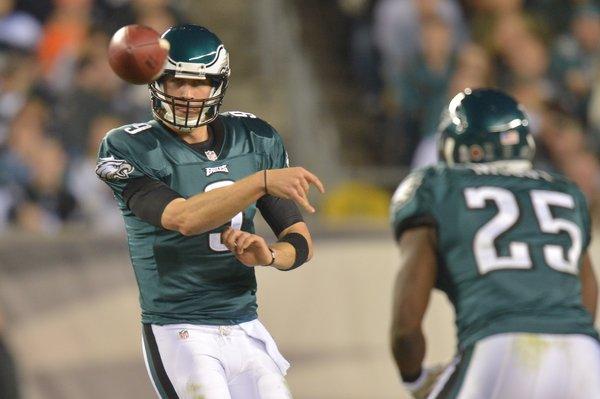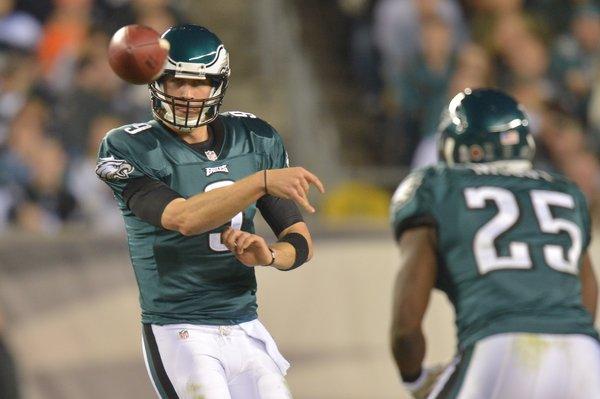 How The Eagles Can Beat The Cowboys
Last week, the Eagles did a great job of spreading the football around and getting a ton of different receivers involved.
Nick Foles connected with eight different receivers, giving guys like Riley Cooper, Jason Avant, Damaris Johnson, and Jeff Maehl opportunities to make plays. The secondary wideouts combined for 10 catches for 154 yards and a touchdown. Their success helped open things up for DeSean Jackson, who finished six catches for 64 yards and two touchdowns.
Keeping the other wideouts involved in the offense is going to be a key for the Eagles moving forward. In the first five weeks of the season, the passing attack was much too focused on Jackson, and it got to the point where defenses were taking him away easily. If the Eagles can continue to get the other receivers their share of touches, its going to make it easier to create the big plays that they love with DeSean.
The Cowboys have given up more yards than any other defense, including over 300 a week through the air. Its the type of defense where the Eagles should be able to have success in spreading the ball around.
Defensively, the Eagles will benefit by not having to face starting running back DeMarco Murray, but they're still going to struggle accounting for Dez Bryant, Jason Witten, and Terrence Williams in the passing game. Once again, the key for this defense is to be opportunistic and wait for their chance to change the game with a turnover or two. Tony Romo can burn a defense for 400 yards and four touchdowns, but he can also shoot himself in the foot with horrendous turnovers at critical moments.
No one expects this defense to shut anybody down. But if they can make a play or two like they did against the Giants and Buccaneers in the last two weeks, it could prove to be the difference in the game.
Why The Cowboys Will Win
The Dallas receivers have a tremendous advantage against the Eagles' secondary.
Dez Bryant is establishing himself more and more as one of the top wideouts in the game, and he's already caught six touchdowns this season. Terrence Williams has stepped up in the absence of Miles Austin, and is emerging as a fine complimentary player. Jason Witten remains one of the league's top tight ends. This is an explosive, talented group of playmakers, and they're going to get open and do some damage in this game.
For all of the talk about how Romo struggles in the clutch this year, he's only thrown three interceptions all season as compared to 14 touchdowns. You can't ignore the reality that this is a very dangerous quarterback, who can tear a pitiful defense like the one he's about to face on Sunday to shreds.
The matchup of Romo and his receivers against this secondary is one that the Eagles are going to struggle heavily with. Even Mike Glennon was able to move the ball and put up nice numbers against this group a week ago. Vincent Jackson and tight end Tim Wright combined for 16 catches for 215 yards and two touchdowns. Billy Davis is going to find it much more difficult to account for the much more talented trio of Romo, Bryant, and Witten.
Defensively, Dallas is a little better than people realize as well. Even though they'll most likely be without DeMarcus Ware, Ware wasn't even the team's leader in sacks. Jason Hatcher has five through seven games, and the Cowboys have three other players with multiple sacks. With or without Ware, they've got some guys who can generate a pass rush and get after the quarterback. Even though the secondary has given up a ton of passing yards, Brandon Carr and Morris Claiborne are a couple of talented corners who are at least capable of making some plays to slow opposing offenses down.
I can't see Nick Foles playing as well as he did a week ago. That's not to say that Foles will have a bad game, but last week he was nearly perfect, throwing for nearly 300 yards and accounting for four touchdowns. A repeat performance simply isn't likely. I still have major concerns about the second-year quarterback's mobility and arm strength.
Final Thoughts
I think this week is going to be a bit of a reality check for the Eagles.
Dallas isn't a great team, but they're a good team, and going back to the preseason I've thought that they were the best in this division. And I've been impressed with them since the season began.
I know the Eagles and Cowboys both have records that say 3-3, but I think Dallas owns the more impressive 3-3 when you look at the body of work from both teams.
The Eagles have been up-and-down, and unpredictable. Their wins have come against three pretty bad teams. They got the Washington Redskins on Opening Night with Robert Griffin unprepared for competitive football. They ripped off two wins against a winless Giants team that has completely fallen off of the face of the earth, and a winless Tampa team that has gone through absolute turmoil and chaos since the year began. They've proven that they're as bad as anyone defensively, and there are still a ton of questions about the quarterback position and whether or not the head coach will live up to the hype in the NFL.
The Cowboys have a high-powered offense, and they've shown that they can score with anyone. They've been in every game, and they're the only team to give a serious challenge to Peyton Manning and the Broncos. Tony Romo is always going to be a flawed quarterback, but he's still one of the better, more productive passers in this league and with the exception of the interception against Denver, his mistakes have been pretty minimal throughout the first seven weeks.
I do think that the Eagles will be competitive and have a chance to win this game. The Dallas defense allows big yardage, and the Eagles offense has done a good job of moving the football. But I think this is a game the Eagles' offense is going to need to be nearly flawless to make up for the woes of their defense. If the offense has a lull or is forced to settle for three's for a stretch or two, it could end up costing the Eagles and giving the Cowboys the separation they need to pull away.
Pick: Dallas 38, Philadelphia 28