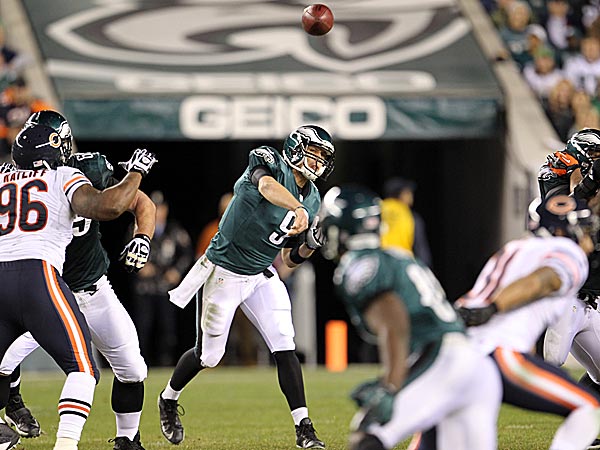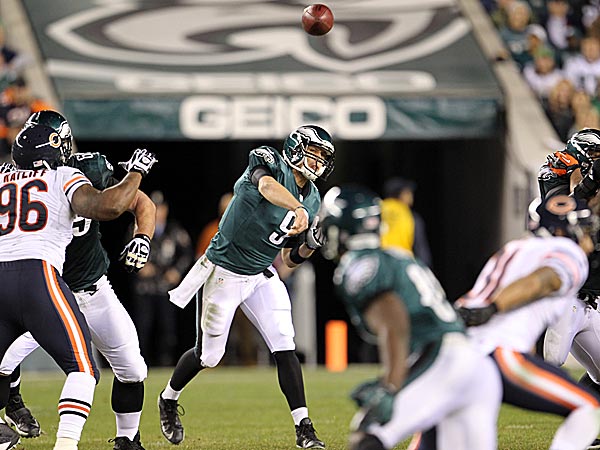 Week 17. Sunday Night Football. Eagles-Cowboys. NFC East division title.
In just a matter of two days, Philadelphia Eagles fans will once again be 'waiting all day for Sunday night' as the Birds will fly south this Sunday for a winner-takes-all, prime time showdown against the Dallas Cowboys.
Oh, Philadelphia. What a tangled web we weave. I can't say that I didn't see this coming, because I definitely did – but as a lifelong Eagles fan, I just gotta say… (in my ESPN analyst voice) "C'MON MAN!"
I mean, seriously – as if the storyline couldn't get any more dramatic, leave it to the media to put a big ol' microscope on the situation! Now don't get me wrong, as an NFL fan, I understand the flex-worthiness of the match-up – the rivalry will surely make for a nice SNF spectacle and I am excited…but as an Eagles fan? Not so much. Fear and anxiety, commence!
My fear has nothing to do with Dallas and everything to do with Philadelphia. Pressure for the Eagles = paranoia for Philadelphia. Let me explain:
The Philadelphia Eagles have been breaking our hearts for decades (literally), and doing so in the most dramatic fashion. The inevitable woes of being an Eagles fan has surely taken 10 years off my life, and though I can think of hundreds of heartbreaking scenarios, nothing burns more than the 2012-2013 season. With a 4-12 record and the firing of Andy Reid, Eagles fans were forced to watch the ultimate and total collapse of the organization. Last season marked the end of an era.
Fast forward a few months later, and in walks Chip Kelly. Offensive mastermind. Master manipulator. The Eagles' new head coach. Though Kelly's arrival brought some excitement to the city – this season was projected for rebuilding… and nobody, and I mean nobody was expecting a quick turnaround.
Fast forward another few months, and Kelly has exceeded expectations tenfold, quickly catapulting the once 4-12 Eagles atop the NFC East, who now hold a 9-6 record with one game left to play. I repeat: NOBODY was expecting this. Thanks to uncle Chip, the city of Philadelphia is finally able to watch some meaningful December football.
Since week 9 (no thanks to that Minnesota trap), the Philadelphia Eagles have been on fire. Quarterback Nick Foles has emerged as the NFL's ultimate Cinderella story, as he leads the league in passing with a 118.7 rating, and has a touchdown to interception ratio of 25-2. With weapons like running back LeSean McCoy, who leads the league in rushing with 1,476 yards, and wide receiver DeSean Jackson, who has 1,304 yards, 79 catches and nine touchdowns this season, the Eagles light up the field offensively. In addition to the tremendous progression on the defensive side of the ball, the team is clicking on all three cylinders and suddenly the Philadelphia Eagles are the hottest team in the NFL.
Lets take a look at Dallas:
With an 8-7 record full of barely-there wins, most analysts consider the Dallas Cowboys to be a lowly-average team. Offensively, the Cowboys owe both their success and failure to quarterback Tony Romo. Romo is successful as he has the ability to sustain drives and extend plays while under pressure, but in December, NFL fans know all too well how haunting that pressure can be as Romo is plagued with an interception-inducing illness.
Lucky for the Cowboys, though, Romo is OUT for the season with a back injury and has officially been placed on IR. Cowboys fans can enjoy a nice slice of humble pie this Sunday as they get to watch backup qb Kyle Orton (who?) go to work! Defensively? The Cowboys cannot stop anybody. They give up a ridiculous amount of yards and are arguably the worst defense in the league. For what its worth, the defense is pretty banged up and I am sure it doesn't help the team morale that starting linebacker Sean Lee (who is said to be the heart of the Dallas defense) is ruled out for Sunday with a neck injury, and will be watching the game next to Romo on the sideline.
With all of that being said, very few would disagree with me when I say that the Philadelphia Eagles are just a better team than the Dallas Cowboys. This simply can't be argued (unless you're Skip Bayless), because numbers don't lie. Plus, the Eagles have been favorites for the match-up since last Sunday -and now with Romo out the margins have widened significantly and the Birds are favorite by a 7-point margin.
From the outside looking in, it seems as if the football gods are aligning the stars for the Philadelphia Eagles. With the odds in our favor and luck on our side, the city of Philadelphia should do nothing but breathe a sigh of relief and anxiously await the return of the NFC East crown, right?
WRONG!
Easier said than done, folks. Unfortunately, the Birds have made a nice little reputation for themselves as the team notorious for 'blowing it' – you know, the team that is always 'so close, yet so far.' The 'next season' team, the 'young and rebuilding' team… the 'dream team' (cringe), if you will.
This is where the whole "pressure for the Eagles = paranoia for Philadelphia" thing comes in to play. The Eagles are favored by nearly every NFL analyst. Experts are expecting a blow out – total explosiveness from the Eagles and a complete collapse from the Cowboys. The entire nation is watching…the stage is set, and the pressure is on for Philadelphia. While an Eagles victory seems predestined, the entire city of Philadelphia is paranoid, waiting for the chair to be pulled out from underneath. We saw what happened two weeks ago in Minnesota, who is to say that can't and won't happen on Sunday? This is Philadelphia we're talking about, the city of heartbreak. Sports disappointment is in our DNA. Philly sports fans are so used to failure that we're unable to enjoy success. A very sad, but very true realization.
Yes, the Eagles should be able to win on Sunday…but will they? When asked if Romo is considered a game-changer, Eagles' cornerback Cary Williams expressed that it "doesn't matter(to him)" who is under center.
"We're here to win the Super Bowl," said Williams. "We're on a mission and they're in our way. Period."
While I like the fiesty attitude..only time will tell. One thing that I know for sure is that the Eagles want Dallas. They REALLY want Dallas.
Til Sunday!