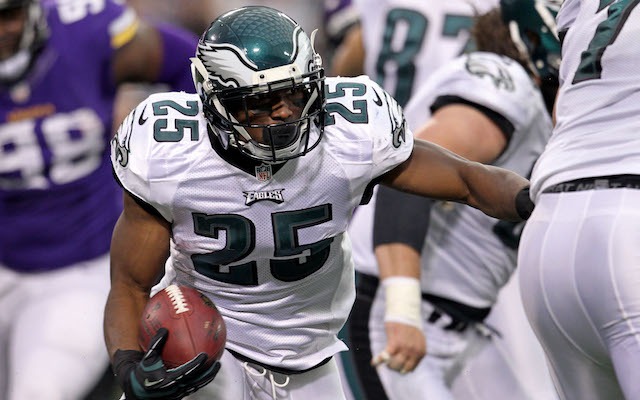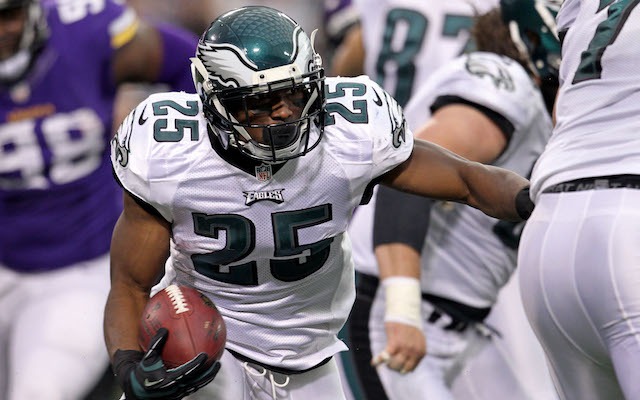 LeSean McCoy
The Eagles are fortunate to have arguably the top running back in all of football playing in his prime.
There really isn't much for McCoy to improve on at this point in his career. Yes, we'd like to see him be a little more decisive at times, but other than that you can't really find fault in his game.
However, Chip Kelly can improve a bit on how he utilizes McCoy.
Hopefully in the off-season, Kelly will consider developing more run formations out of traditional I-formation sets instead of relying on draws and zone-read attacks the majority of the time. Running McCoy out of different formations just presents the Eagles with a different way that they can damage an opposing defense, and it will be one more thing that teams will need to prepare for.
Bryce Brown
Before the last two weeks of the season, Bryce Brown really struggled to get going in Kelly's offense.
While LeSean McCoy adapted to the offense right away, it took Brown most of the year to adjust to running out of shotgun formations without a lead blocker.
Brown did finish the year strong with a a long touchdown run against the Bears, and a couple of huge runs against the Dallas Cowboys in the game that clinched the division.
Some have speculated that Brown could be a guy that the Eagles look to trade in the off-season, but I wouldn't be so quick to move the talented prospect. While Brown has shown enough over the last two years that he could net something of value in a deal, I'd rather just keep him around as the primary backup to McCoy.
I like Chris Polk a lot, but I wouldn't have confidence in him as a featured back if something were to happen to McCoy. I believe Brown is talented enough that he could potentially fill in very nicely as a starter if need be.
Chris Polk
Polk showed that he can be a very nice role player in this offense.
He's a powerful runner that can pick up some tough yards, and he's versatile enough to also catch passes out of the backfield. By the end of the year, Polk had shown the coaches enough that he had earned himself a handful of plays with the offense every week.
As I mentioned above though, I don't feel good enough about Polk that I would trust him as the team's primary backup if something were to happen to McCoy. I think the current role he's in is perfect for the team, and for himself.
Matthew Tucker
Tucker was on the roster for the majority of the year, but never got an opportunity to play.
He looked pretty good in the preseason though, making enough tough runs and big plays that he began the year on the practice squad.
Its going to be hard for the Eagles to justify keeping four running backs next year, but if the team were to deal Brown or Polk, an opportunity could open up for Tucker.
Final Thoughts
The running back position may be the most complete and stable position on the team.
From top to bottom, this is such a deep, talented group. The Eagles have put together a strong backfield with three guys that have shown they can make plays at the NFL level.
If there was a position that the team should stand pat in, this would have to be the one.
Unless a team comes banging down the doors to get Bryce Brown with a high draft choice, there's really no need for the Eagles to pursue any veterans in free agency, or make the position a priority in the draft.