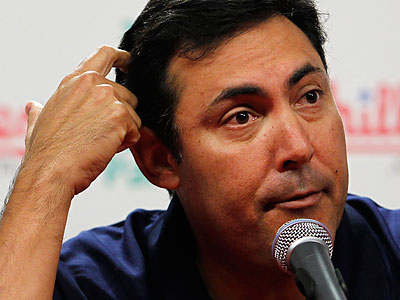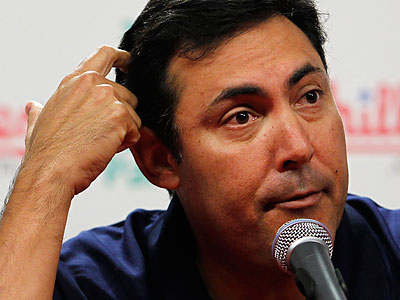 Tuesday afternoon delivered some surprising news when the Phillies announced that they have signed soon-to-be 40-year old outfielder Bobby Abreu to a minor-league deal. Abreu, who will be 40 in March, has not played in the major leagues since 2012.
This move is laughable for a variety of reasons. I know that the team isn't signing Abreu with the idea that he'll be a savior of any kind, but its the same type of head-scratching signing that Ruben Amaro has made over the last few years. To me, this moves signifies that Amaro learned nothing from the Jim Thome signing. When the Phils brought Thome back a couple of years ago, they had the idea that he was going to be able to contribute as an everyday player, filling in at first base while Ryan Howard recovered from his injury. The team learned all too quickly that Thome was no longer capable of playing the field, and was really only suited for a DH role at that point in his career. As a pinch-hitter in the National League, Thome was able to bring very little to the table.
The same can be said for Abreu. At this point in his career, if he still has a place in the major leagues, its as a DH. If he makes the team, he's going to be wasting a roster spot because the team will only be able to use him as a hitter and won't be able to trust him in the outfield. And by the way, there's a reason no other major league team brought Abreu in last season…his skills have been in decline.
When you look at the job that Amaro has done to improve this team, its really hard to feel any kind of optimism that 2014 will be any different from the last two seasons.
During the offseason, the Phillies have added Marlon Byrd, catcher Will Nieves, reliever Brad Lincoln, and now Abreu.
That's not exactly a dramatic improvement. An old team has gotten older, and there's been no infusion of youth into either the lineup or pitching rotation. The league's worst bullpen doesn't look any better.
Is that not enough good news for you? Well John Mayberry is coming back for another year! So is Kyle Kendrick. And Jimmy Rollins isn't going anywhere because he has records to break!
For the Phillies to succeed in 2014, they're going to have to rely on a lot of "ifs" breaking their way.
IF Chase Utley's knees can miraculously hold together like they did last year, he might have something left! IF Ryan Howard is finally healthy, he might hit 30 home runs and drive in over 100 runs! IF one of the young bullpen arms can take a step forward, or IF Mike Adams can stay healthy (ha!) the bullpen might be better!
It's the same tired storylines that we've become all too familiar with from this team over the last three years.
When I think of this whole situation, I hear Joe Banner's voice in my head reminding me that the definition of insanity is doing the same thing over and over again while expecting a different result.
The other thing that really bothers me about the Abreu signing is that potentially committing a roster spot to him is going to block a younger player from making the major league roster. Its the same mistake that the team made a year ago when they brought in Delmon Young. Amaro decided to commit the right field job to Young, and did so at the expense of Darin Ruf. Ruf spent the first half of the year rotting in the minor leagues, and only got a chance to play when the team was out of the race. Ruf did a decent job, hitting 14 homers despite limited playing time.
You could argue that the Phillies may very well not have a prospect worthy of that roster spot at the moment, but you have to ask yourself, at what point does this team think about getting younger? Amaro only seems interested in adding players on the wrong side of 30 to the roster. He won't let any of the aging stars move on after re-signing Jimmy Rollins, Chase Utley, and Carlos Ruiz to multi-year deals over the last two years. Heck, if Roy Halladay didn't decide to retire on his own, it'd be a good bet that Amaro would have brought him back too.
I don't know how Ruben Amaro can really say with confidence that he's putting a better product on the field than he did a year ago.