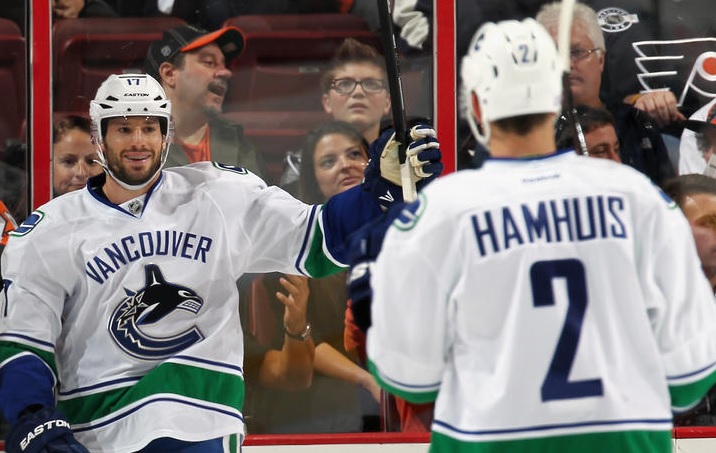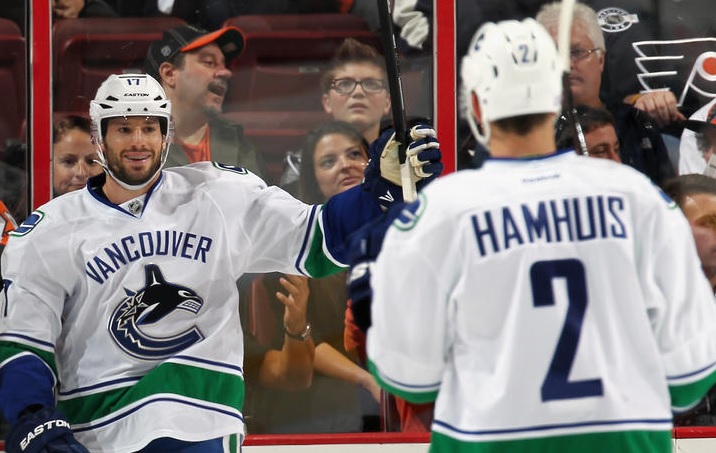 Louis Jean of TVA Sports broke the story several days ago that Ryan Kesler had requested a trade from the Vancouver Canucks.
Kesler emphatically denied the accusation, but multiple reporters have since backed the story, citing that Kesler made similar comments about wanting out of Vancouver after the bronze medal game between the U.S. and Finland at the Winter Olympics.
Bob McKenzie of TSN couldn't say whether or not Kesler had actually requested a trade or not, but reported that "teams have been calling Vancouver on him. Canucks are listening."
Kesler, 29, has scored at least twenty goals in each of the last six seasons in which he played sixty or more games. His highest points total (75) was amassed in the 2009-10 NHL season while his largest goal production came in the following season (41 goals).
Vancouver isn't in a position to want or need to trade their top six, Selke-award-winning center, as he is locked up for two more years at a reasonable salary and cap hit of $5-million. As such, the asking price for his services isn't cheap.
Nick Kypreos of Rogers Sportsnet reported via twitter that, "early indication from one NHL club say Canucks ask[ing price] for Kesler may include as many as 3 pieces. A 1st rd pick, roster player/prospect."
What does any of this have to do with the Philadelphia Flyers?
In 2006, then general manager Bobby Clarke signed Kesler to an offer sheet worth $1.9 million with the intent of pushing the Canucks close to the cap if they were to match.
In response to criticism about signing a restricted free agent (one of the 'unspoken roles' that some teams like to defer to, even if it would amount to collusion), Clarke told reporters:
"We all have the same cap… We all operate in the same world. They had all summer to sign this guy. It was three days before training camp, he's not signed, we're going to lose [Keith] Primeau [to retirement], so we took a shot at getting another center."
The Flyers don't realistically need another center this time around, though. Between Claude Giroux, Brayden Schenn, Sean Couturier, Vinny Lecavalier and top prospect Scott Laughton, the Flyers arguably have too many. That hasn't stopped Philadelphia from being linked to Kesler.
Pierre LeBrun of ESPN reported that the Flyers are interested in Ryan Kesler and Alexander Edler. He suggested that it could take Brayden Schenn to acquire Kesler. Following Kypreos' asking price, it would most likely require Brayden Schenn, a top prospect and a first round pick to complete the trade.
Further adding fuel to the fire was a report on Friday from Adam Kimelman of NHL.com that two scouts from the Flyers were in attendance for the Canucks-Minnesota Wild game. No Canucks scouts were in attendance for the Flyers-Rangers game on Saturday.
One can only hope that the Flyers are simply performing their due diligence when it comes to Kesler. As mentioned, they have sufficient depth down the middle and aren't in the need for another player that's older and more susceptible to injuries of late (he only skated in 17 games during the lockout shortened season).
John Boruk of CSNPhilly reported via twitter after Saturday's win against the Rangers that he "talked with several Flyers sources, the team isn't pursuing a Kesler deal like some people might have you think."
If that is the case, it is the other player mentioned by LeBrun that would be seemingly be the intended target for the Flyers– Alexander Edler.
Edler, 27, is signed through the 2018-19 season at $5 million per season. He has performed in a second pairing capacity for the Canucks since the 2011-12 NHL season, when he scored 11 goals and 49 points.
As impressive as that production is, however, Edler had largely played sheltered minutes in the last few seasons. He began more than 56% of his shifts in the offensive zone under the coaching of Alain Vigneault since the 2011-12 season.
When John Tortorella took the reins of the team at the beginning of this season, he utilized Edler (along with the majority of the defense) in a more balanced role on the ice, ignoring where the shift was beginning. His production has taken a significant tumble since then, with the Swede only netting  5 goals and 15 points through 43 games played.
By comparison, defenseman Andrej Meszaros, 28, has 5 goals and 17 points in 37 games.
No "asking price" has been suggested to date for Edler, but defensemen tend to come at a premium in the NHL. Meszaros would probably need to head to Vancouver for salary cap reasons, with one of Schenn or Laughton combined in the package as well.
Moving one of their impending unrestricted free agents (Meszaros and Steve Downie) would not be an unreasonable move for the Flyers, but they can't afford to move one of their young centers unless it is part of a package for a true top pairing defenseman.
The trade deadline is March 5th. The Flyers have one more game with which to make a decision about how much they like their current line-up and whether or not it's smarter to wait until the offseason before tinkering with the roster.