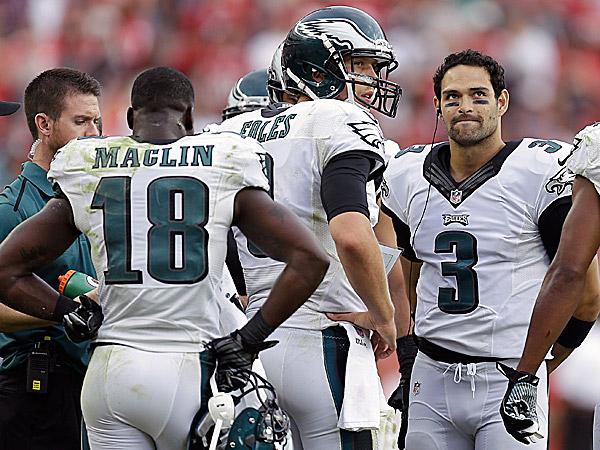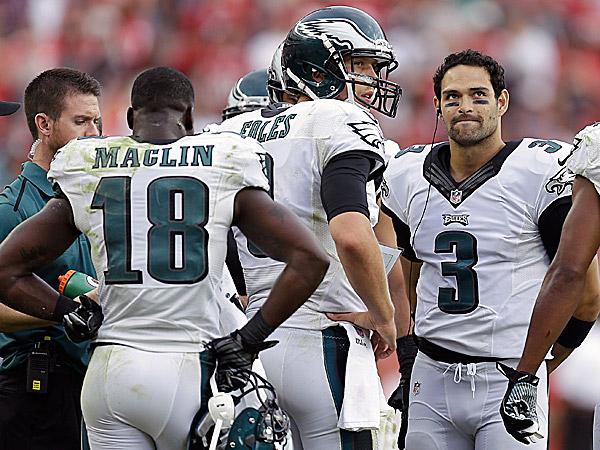 Foles' Poor Play Catches Up With Him
Nick Foles played another shaky, inconsistent game plagued by poor throws, indecisiveness, and back-breaking turnovers.
Foles can't make plays when he doesn't have time to throw. He's very shaky on the run, and when he can't comfortably set his feet, its very difficult to make the throws he needs to come up with. Today F0les tossed two terrible interceptions that swung momentum towards the Cardinals.
In the first half, Foles hesitated on a throw to Josh Huff in the endzone. He held on to the ball to long, threw it late, and it was intercepted by Antonio Cromartie. If Foles throws that ball decisively, its a touchdown. Instead the Eagles come away with no points which proves to be critical later in the game. If the Eagles have even just three more points on the board, they're lining up for the winning field goal at the end of the game instead of trying to get it in the endzone.
In the second half, Foles threw a pass behind Riley Cooper that was also intercepted by Cromartie. The Cardinals were able to take that turnover, and turn it into three points.
Even when Foles wasn't turning the ball over, he was off and erratic throughout the game. Too many passes were thrown high, and too many of his deep attempts were ugly floaters. This is not quarterback play that leads to winning football. Anytime the Cardinals got pressure on the third year man or forced him to move around  in the pocket, he just couldn't make plays.
The bottom line here is that you've got a quarterback that continues to commit multiple game-changing turnovers in every game. That's just not acceptable, plain and simple.
Kelly Leaned Too Heavily On The Pass
Part of the problem today was that the playcalling was much too heavily skewed in favor of the pass. Nick Foles has a ridiculous 62 pass attempts in this game.
Its not like the Eagles were down by multiple scores and needed to throw, the Cardinals were never ahead by more than seven points. And even with Foles off, and with LeSean McCoy and the running game averaging 4.2 yards per carry, Kelly still put the ball in the hands of his erratic quarterback so many times that you would have thought Andy Reid was calling plays again.
Offense
 How great has Jeremy Maclin been this year? Maclin registered what was the best game of his career, picking up 12 catches for 187 yards and two touchdowns. He won his battles with Patrick Peterson throughout the day, and just continues to have a Pro-Bowl caliber season. 

Riley Cooper came down with five passes for 88 yards, including a big 50-yard reception that was a very difficult catch.
Josh Huff fumbled away his only reception on a catch that came deep in Arizona territory.
LeSean McCoy had 83 yards on 21 carries.
I thought David Molk and Matt Tobin both made some nice blocks in the running game.
Chris Polk contributed 13 yards on three carries, seeing some snaps with the offense with Darren Sproles unavailable to play.
Nice block by Lane Johnson to spring Jeremy Maclin for the Eagles' first touchdown.
A bit of a rough game for Jason Peters, who was flagged several times throughout the game, including a couple of illegal hands to the face calls.
Defense
Mychal Kendricks was active today, making his return to the lineup from a calf injury.

Malcolm Jenkins brought down Andre Ellington for a loss on Arizona's first offensive play. 

The Eagles' defense extended the Cardinals first drive several times, once with a holding penalty on Brandon Boykin, and then an illegal hands to the face on Nate Allen.
Allen had both his best and worst moment as an Eagle in this game. His best came when he wrestled the ball away from Andre Ellington to create a turnover for the Eagles in the second half. The worst came on the final Arizona possession, where he allowed Josh Brown to run right past him and get open for the game winning 80-yard touchdown reception.
The Eagles were unable to sack Carson Palmer once today.
DeMeco Ryans played his best game of the season. Ryans had only three tackles, but came up with some key plays, including stuffing Andre Ellington for a loss in the second half and breaking up what would have been a touchdown pass to John Carlson late in the game on a third down, forcing the Cardinals to settle for three.
Larry Fitzgerald always seems to kill the Eagles. Fitzgerald had just one touchdown, and hadn't gone over 100 yards this year, but today he caught seven passes for 160 yards and one touchdown, and 80-yard score.
Special Teams
Trey Burton made a nice open-field tackle on Tedd Ginn following Donnie Jones' first punt. 

Cody Parkey drilled a 54-yard field goal in the second half.
Final Thoughts
Nick Foles isn't doing much to show that he's worth any kind of long-term investment.
With 12 turnovers in seven games, and just one turnover-free performance on the year, the Eagles have been winning despite his struggles.
But now they're really beginning to become an issue. He's just making some terrible decisions and poor throws right now, and you can't win in this league when your quarterback is a threat to turn it over multiple times.
This was a game that was there to be won, but the Eagles' turnovers robbed them of a valuable win against an NFC foe that has a good chance to make it to the playoffs. Not only have the Eagles now lost the tiebreaker to both the Cardinals and 49ers, but they're also on the verge of falling a game and a half behind Dallas in the division standings.