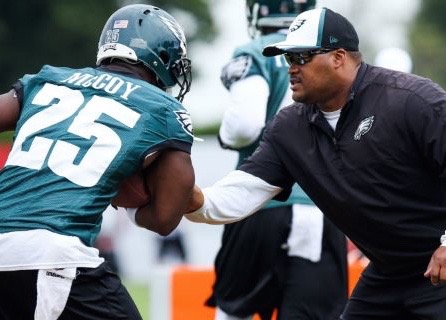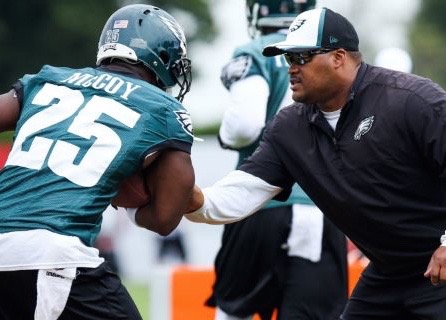 At the same time former Eagles running back LeSean McCoy was refusing to answer questions about why he insinuated that Eagles head coach Chip Kelly was a racist, his former running back coach, Duce Staley was defending Kelly at the Nova Care Complex.
Yesterday, the Eagles assistant coaches talked to the media and Staley, as expected fielded some questions from reporters about the comments McCoy made and what was his opinion of Kelly.
"Chip is not a racist at all," Staley said. "Chip and I work well together. Everybody has their own opinion. I'm not here to actually talk about Tra or here to talk about what McCoy said. I know from my relationship with Chip that's definitely far- fetched.

"We're all here to do a job, and that's what it's all about. It's about football. So don't take something that's a chapter and make it a book."
Staley said the decision to trade McCoy was simply a business decision by Chip and the Eagles. He says McCoy knows the deal.
"My reaction, of course, LeSean and I are close," Staley said. "You have to understand this is a business. He understands that. And everybody that works on this level understands that. He moved on with a better opportunity for him, and he'll take full advantage."
I don't know if this is the end of this controversy or will it continue to be a topic brought up to Chip, LeSean and Duce.  We'll see.