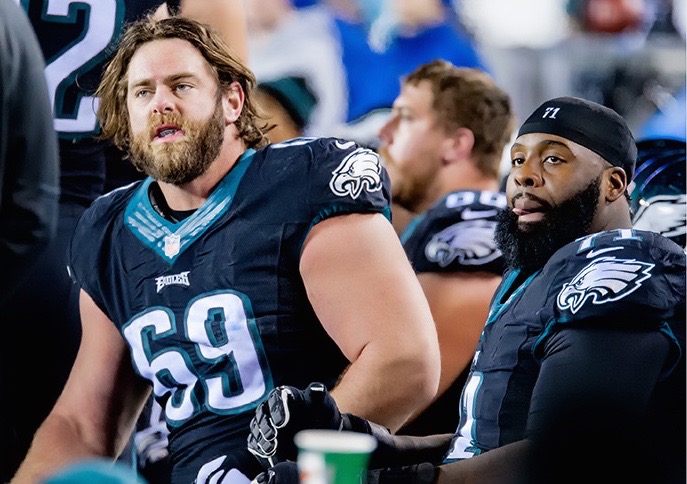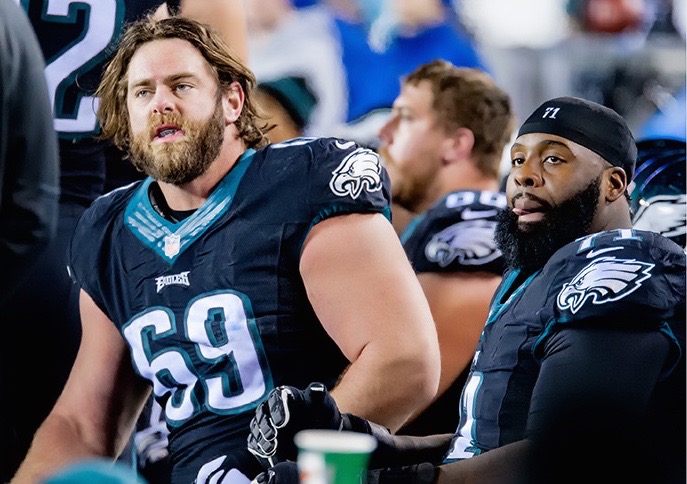 Former Eagles Pro Bowl left offensive tackle Tra Thomas was on 97.5 The Fannatic yesterday talking about the departure of Pro Bowl left guard Evan Mathis and he has some very interesting things to say.  He doesn't think the sky is falling when it comes to the departure of Mathis.  In fact, Thomas believes the Eagles are better without Mathis.
"I know Evan is a two-time Pro Bowler, but he and Jason Peters play a different style of game" Thomas said. "Evan Mathis is a guy who likes to jump set and likes to take everything at the line of scrimmage.  Jason Peters is a guy who likes to set back and let his guy come to him.  He came up in the same school of thought as Juan (Castillo).  He likes to count his steps and everything is timing and about punching the guy (rusher) to take him past the quarterback."
Thomas says there have been fundamental problems on the left side of the Eagles offensive line because of the different ways the two Pro Bowlers chose to block the pass rushers.  Maybe this explains why Peters was supportive of Mathis when asked about his teammate.  In fact, Peters said he won't miss him.
"Evan is taking his guy right on the line and Jason Peters is about three yards behind him.  He's setting back and that puts them on two different levels which creates issues and problems when the rushers run games against them.  Lot of times if you saw the film, you saw issues.  They were on different levels."
Thomas believes there will be noticeable improvement with the insertion of Barbre into the lineup.
"When you bring in Allen Barbre on that left side, Big Al and Jason.  They kind of move the same.  I think you will see a better rapport and better chemistry.  These two will play better together.  Just because Allen sets more at a 45 degree angle and he punches his guy."
"When you go back and review the film and and look at how he has been playing I know he made the Pro Bowl, but when you look at his style of play. He doesn't the play the way I would want my guards to play.  I know it's going to fit somewhere.   But when you look at what was going on back out there on the field you could see Jason didn't trust him.  He creates a problem when it comes to protection.  Evan Mathis likes to jump his guy on the line so if you have a guy that's setting. It's one thing if you have both the tackle and guard jumping at the line.  When you're on different levels so it creates problems."
"You know exactly what they're going to get out of Allen Barbre.  They already know what they're going to get out of Allen Barbre.  He's exactly what you want out of a guard.  He's got the right mentality for a guard.  You're going to see.  The left side is going to be a little more firmer up especially when it comes to games.  He likes to set a 45 and it makes a true U form. — It makes switching off the game a lot easier."
"I think Coach Kelly is going back and watching the film.  There were issues when it comes to protection.  Now, I think the left side is good."
At the end of the conversation Thomas mentioned Matt Tobin and Dennis Kelly.  He spoke highly of Tobin, which was music to my ears.
"I think the left side is good.  But I think you look at what's going to be happen at right guard.  I like Matt Tobin and what he brings to the game.  Dennis Kelly is a little tall for the guard position.  Taller guards kind of struggle in the league."
So that's two former NFL offensive linemen, who have vouched for Tobin.   Brian Baldinger of NFL Network had good things to say about Tobin, who is probably going to be the starter at right guard for the regular season.