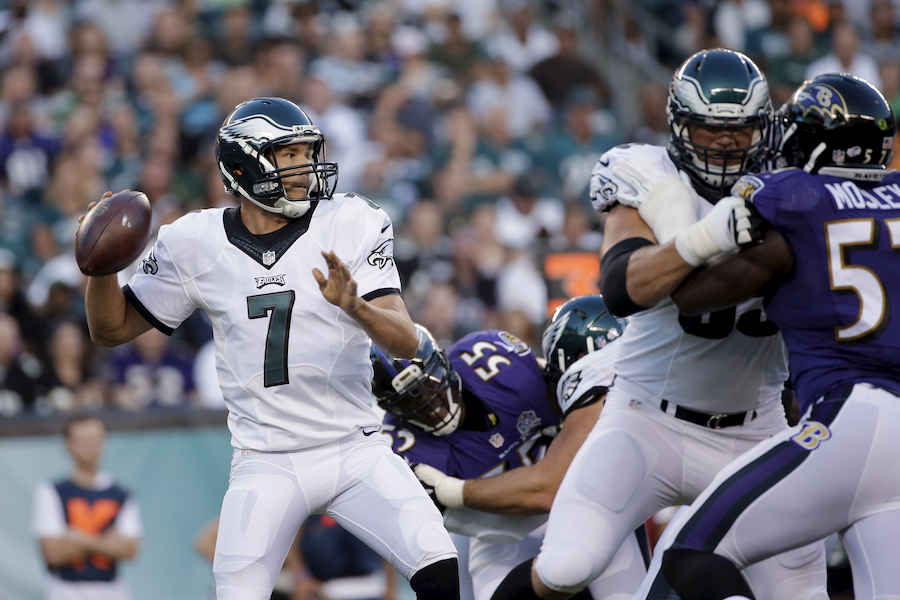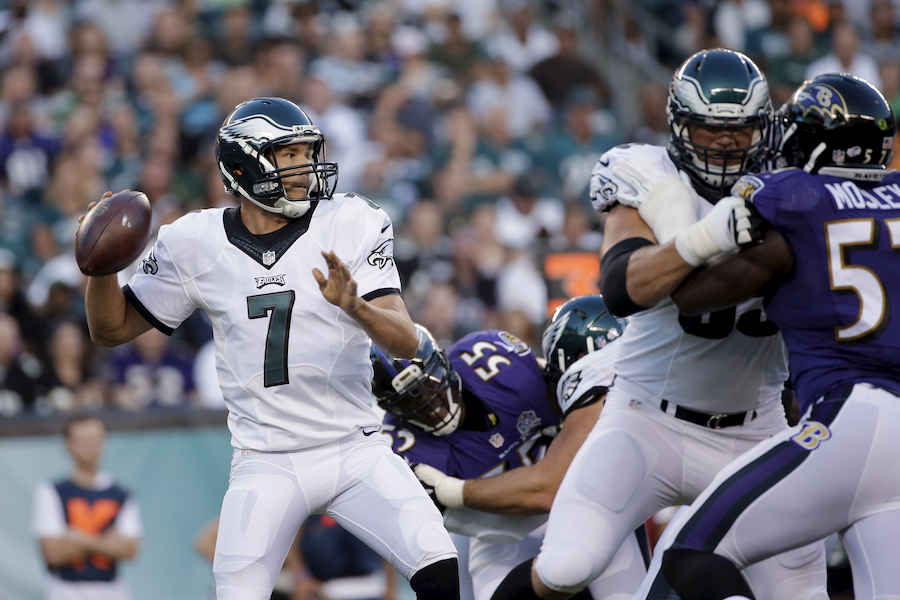 Eagles fans were celebrating Sam Bradford getting up from a Terrell Suggs hit against the Ravens, but the truth of matter is he didn't do much in the Saturday night game.  He threw the ball only five times and completed three of them.  It really wasn't anything special.
We need to see more of Eagles quarterback Sam Bradford this weekend and he wants to play more.  Timing in practice and timing in a game are two different things.  I noticed he started rushing his throws a bit when he played against the Ravens last week.
The adrenaline that surges through you in a game can cause you to hurry if you don't calm down and relax.  The more you play the more you're able to find out where you should be emotionally to do your job.  Quarterbacks need to be relaxed and clear headed.
Bradford needs to be put in the lineup and allowed to play for at least the first half.   I think it would be a good idea to let him play a few snaps at the beginning of the second half because that's something you must get used to as well.
Chip Kelly says that he's not concerned about Bradford's health any more.
"I think he's beyond cautiousness physically," Kelly told NJ.com Advance Media today. "That's not a factor in terms of what we want to do or what we want to accomplish."
If that's really the case then let him play at least a half on Saturday.
"I plan to play,"  Bradford told Eagles 24/7 after practice today.  "It's always his decision.  We haven't talked about it.  I don't know how much I'll play, but yeah I plan to play."
I agree with Bradford that he needs to get on the field and get a feel for what he's going to be up against in the regular season.  I would like to see him develop his timing with the receivers in real NFL game action.  If he's going to get hurt, he's going to get hurt.  They can't keep treating him like he's made of glass.
"Just getting out there and getting a feel for game speed," Bradford said when he was asked about playing Saturday. "When you are out there in the preseason, it's one speed, then in the regular season it ramps up another level. Just getting back out there, getting used to bodies around me in the pocket, being able to move away from those in the pocket, and getting a feel for everything."
It'll be interesting to see if Kelly allows Bradford to really get his feet wet, by letting him play the first half.  Kelly somewhat jokingly says he's concerned about the weather in Green Bay.
"There's rain coming in Green Bay", Kelly said. "The temperature was 54 today. I've been monitoring the weather, so, that's a factor. There are others, but we'll start with the weather."
Bradford wants to play and he gave plenty of reasons why he should play on Saturday.
"To play the one drive was great, but it's nice to go on the field multiple times, establish that rhythm, work on communication with the line, with the receivers and talk about what we are seeing on the field. So when it gets to the regular season, that isn't something we have to work through."
We don't want Bradford still showing rust when he takes the field against the Atlanta Falcons on September 14.  The only chance he's going to get to erase of some of that rust is to play at least a half on Saturday.  You can only get but so much out of practice.